Stories of RNS photos: Bombs
In 2019, with grant support from the National Endowment for the Humanities, PHS digitized nearly 500 images from the RNS photograph collection all of which are now viewable in Pearl. The photographs chosen for the project spanned various years, topic, faiths, and geographical locations, but all supported the Religious News Service's mission to document twentieth century religious and ethical issues for a wider audience.
--
The Religious News Service photograph collection's widespread political coverage documented moments of joy and offers examples of people joining together to work toward a common goal. However, the photographs also showcase a world where governments were at odds with each other, and their own people. This month, we're sharing images from the RNS Photograph collection that investigate the realities and aftermath of weapons—specifically bombs—used against people in times of war and crisis.
During the development of the atomic bomb, which began in 1942, the United States government created four secret sites to create and test weapons. One of those sites was Los Alamos, New Mexico. Located 35 miles from Santa Fe, 8,000 people lived and worked in Los Alamos. The citizens still attended church while under the cloak of secrecy. Here, the citizens of the elusive town can be seen chatting with one another after Sunday service.
Two of the 690 nuns attending summer sessions at the University of Notre Dame in 1953 were survivors of the 1945 atomic bombing of Nagasaki. Sister Clara (pictured left) was one one mile away from "ground zero" at the time of the bombing. She was trapped in a demolished convent for two hours, praying for deliverance and the safety of her students and fellow Sisters. Sister Agatha (pictured right) was teaching in nearby Kagoshima during the explosion. Along with a number of other Sisters, she was sent to aid the injured in Nagasaki, guiding them to the mountains and away from atomic radiation. At Notre Dame, Sister Clara took courses in church liturgy and Sister Agatha studied painting and sculpture. After the sessions, both Sisters returned to Japan, where they taught in schools conducted by the Sisters of the Immaculate Heart of Mary.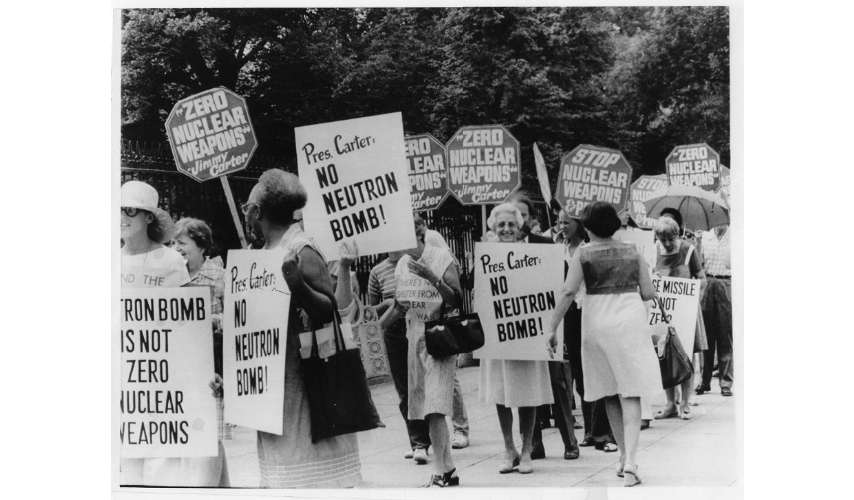 During the Cold War, the United States considered going beyond their usual territory of atomic weapons and into neutron bombs. Neutron bombs, officially categorized as enhanced radiation weapons (ERWs), are designed to release toxic levels of radiation. Since none have ever actually been used, they are suspected to be ten times more lethal than atomic bombs. On July 20, 1977, members of Women Strike for Peace protested in front of the White House against President Carter's support of the neutron boms and cruise missiles. Despite opposition, neutron bombs remained in the United States' arsenal until the last one was dismanted in 1996.
1973 was a tumultuous year in Northern Ireland. After years of political strife, a sovreignty referendum in March only led to more violence in the region. The image on the left shows the wreckage of a car bomb being inspected after it detonated outside of St. Patrick's Roman Catholic Church in Ballycastle on August 26. Four people were critically injured. Another bombing occured on September 6 in Belfast. A bottled gas warehouse (right) near the center of Belfast was aflame after an armed group planted and detonated a bomb inside.
Violence was not centralized to Northern Ireland. On June 17, 1974, a bomb was detonated in Westminster Hall, part of the Houses of Parliament, in London. Police claimed that the bombing was the work of the Irish Republican Army (IRA). A man using an IRA codeword phoned the police six minutes before the bomb exploded. Westminster Hall only suffered mild damage, but eleven people were injured.
During the funeral for Archbishop Oscar Arnulfo Romero in San Salvador, El Salvador, violence erupted in the street. Romero was assassinated six days prior on March 24, 1980, after being consistently outspoken against government death squads during the Salvadoran Civil War. Pictured right, an armed man covers his face as he flees from a burning car. On the left, another man can be seen throwing a Molotov cocktail in the direction of the car. Officials reported 31 casualties during the funeral as a result of gunfire, explosions, and a stampede.
--
Follow @RNS.at.PHS on Instagram
Access RNS photos available via Pearl
Read our other Religious News Service blogs
Go to the Religion News Service, today's Religious News Service