African American Leaders: Yenwith and Muriel Whitney
Each month, the Presbyterian Historical Society is bearing witness to the lives of African American leaders throughout the history of the denomination. Click here to learn how PHS is collecting records of the Black Presbyterian experience through the African American Leaders and Congregations Initiative.
Additionally, a free bulletin insert about each figure is available for download at the end of each blog.
--
Yenwith "Yen" and Muriel Whitney (nee. Johnson) wed in 1951. Together, they journeyed into their shared life of service to the Presbyterian Church.
While attending Harlem's Church of the Master, the couple was moved to mission service by James H. Robinson, the director of the Crossroads Africa program. In 1956, the Board of Foreign Missions appointed the Whitney's to missionary positions in Cameroon. There, the two served as faculty at Cameroon Christian College, where Yenwith taught math and physics. They remained there for ten years, returning to the United States in 1966, where they continued to serve the Presbyterian church.
Before he was a clergy, though, Yenwith was an Army Air Corps pilot.
Yen enlisted in 1943, in the midst of World War II, at the age of eighteen. He was sent to the Tuskegee Institute in Alabama for training. He went on to serve as a member of the 301st Fighter Group, one of four all-Black fighter squadrons in the 332nd Fighter Squadron of the 15th Air Force—and made history as a member of the famed Tuskegee Airmen.
At a Black History month lecture hosted by the North Port Library in 2003, Whitney recalled the details surrounding his time in service. He and the other Black pilots who graduated with him were sent to Italy. Their job description: stop the German fighters from attacking the American bombers.
"On March 24, 1945, we flew…from Italy to Berlin and back. It was an all-out effort on the part of the 8th Air Force, 15th Air Force, 12th Air Force, and 9th Air Force," Whitney noted. "The bombers were dropping one last devastating blow on Berlin…On that day, the Germans flew every jet they had against us. The war was almost over and they were making their last stand," he said. "Three of our guys shot down three of the ME-262s that day."
When World War II came to a close in 1945, Yenwith had flown over 30 missions. After the war, he and 11 other former airmen went together to the offices of Eastern Airlines in New York to apply for commercial pilot positions. Though Yenwith and his contemporaries were decorated veteran war pilots, none were considered for jobs. The first Black pilot to fly with a passenger airline would be hired in 1964, when American Airlines signed David E. Harris onto their staff.
Following this disappointment, Yenwith earned his degree from the Massachusetts Institute of Technology (MIT) in 1949. He then found his way back to New York City, where he grew up. One evening, Yenwith went with a friend to a youth group meeting at the Church of the Master in New York. There, he met his future wife.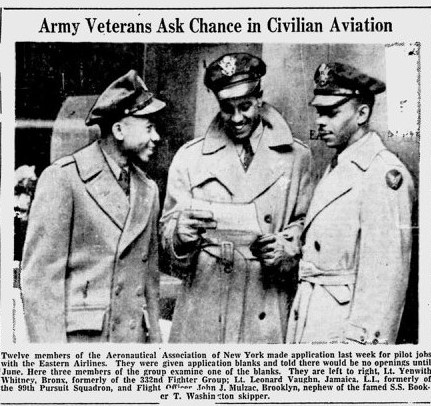 Before she met Yenwith, Muriel was already a leader in her church community.
Muriel had been attending Mt. Olivet Baptist Church through her youth. She attended summer programs at Camp Minisink, and, in 1947—just a few years before she and Yen were married—she served as the Vice Moderator of Westminster Fellowship of New York Presbytery. She regularly attended youth group meetings at the Church of the Master in New York, where, one night, Yenwith walked in with a friend of hers.
The rest was history.
***
When the couple returned to the States after their years spent in Cameroon, Yen earned his Doctorate in Education from Columbia University and became the Associate Secretary for Education of the UPCUSA's Commission on Ecumenical Mission and Relations (COEMAR). He served in this position for three years, until, in 1970, he was appointed as Associate for Educational Services with the Program Agency of COEMAR.
In 1978, the Whitney's were living in Georgia, where Yen had taken the position of principal of Boggs Academy. That year, Muriel passed away.
Yen remarried one and a half years later, to Lorenza "Lori" Washington. Around this time, in 1980, Yenwith was appointed as the church's liaison with Africa. In 1988, he and his wife moved to Louisville, Kentucky, where the headquarters of the PC(USA) had relocated to. Yen and Lori lived in Kentucky until 1998, six years after Yen retired, when they moved to Sarasota, Florida.
Settled in the sunshine state, Yenwith dove back into church and community work. He served as an elder at the First Presbyterian Church of Sarasota; he worked with the alumni association at MIT; and he consistently gave talks and presentations about his wartime experiences through his involvement with the Tuskegee Airmen Association.
Lori passed away in 2008; Yenwith died three years later in 2011. He is buried with his first wife, Muriel, at Mount Hope Cemetery in Hastings-on-Hudson, New York.
--
Want to share this biography with your congregation? Click below to read and download a free bulletin insert about Yenwith and Muriel Whitney.
Download Bulletin Insert: Full Page | Half-Letter | Half-Legal
--