Michael Mar Yosip: An Assyrian Minister In The American South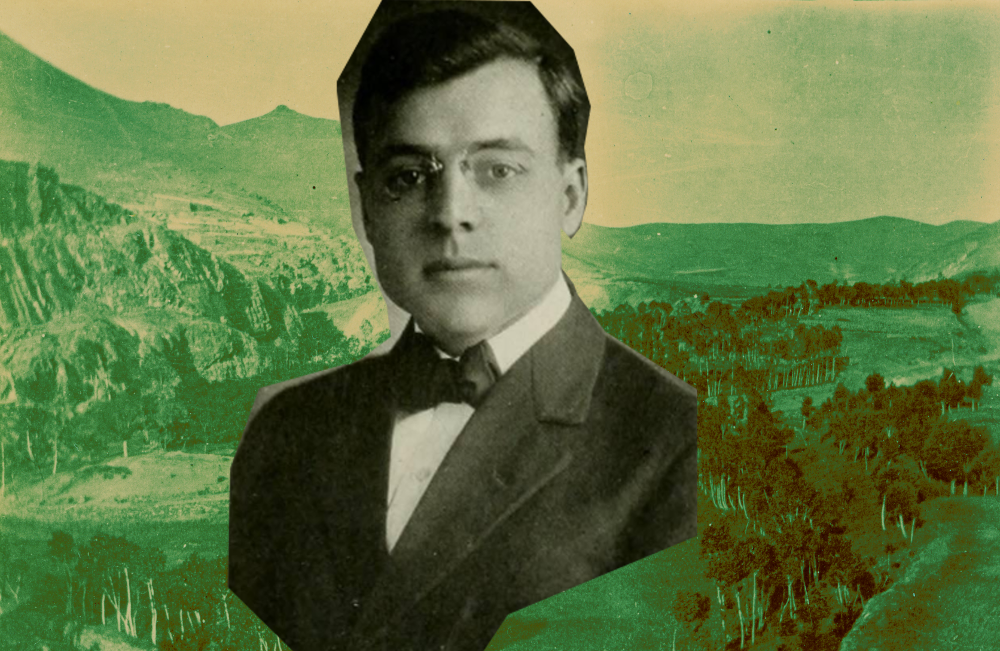 by Phil Hanna and David Staniunas
Michael Mar Yosip's declaration of intent to naturalize indicates that he came to America from Portsmouth, England, on the vessel Philadelphia, arriving in late August of 1905. He describes himself as having a dark complexion and weighing 145 pounds. He affirmed his "intention to renounce forever all allegiance and fidelity to any foreign prince, potentate, state, or sovereignty, and particularly to Ahmad Mirza Shah of Persia." The call to ministry in the Presbyterian church carried this young Assyrian man from northwest Persia to the Louisville Presbytery of the old PCUS.
Born in Urmia on September 27, 1884, to the Reverend Chlabi Mar Yosip and Sarah Eshoo, Michael grew up in the schools of the PC(USA) West Persia mission. He graduated from Davidson College in 1911 and from Louisville Presbyterian Theological Seminary in 1914. He was ordained that same year. He was pastor of Mulberry Presbyterian Church in Shelby County, Kentucky for two years before moving into the Synod of Arkansas, first as a roving evangelist, then as pastor of churches in Cotton Plant and Little Rock. Mar Yosip took the pulpit of First Presbyterian Church of Temple, Texas, in 1928. Johnnie Reynolds of Moody, Texas, married him in 1934, when he was fifty years old. He served at Temple until his death in 1950.
The ties that would have drawn Mar Yosip to the United States were longstanding. American Protestant mission work began in Urmia and Tehran in 1834 under the auspices of the American Board of Commissioners for Foreign Missions. In 1871, the mission stations were transferred to the Presbyterian Church in the U.S.A. After failed and alienating attempts to convert the Muslims and Jews of Urmia, Presbyterians focused evangelization efforts on the region's Armenian and Assyrian Christians, and established schools and hospitals for all. Medical service was especially significant for the overwhelmingly rural population of Qajar dynasty Iran--only 28% of Iranians lived in cities in 1910--who routinely suffered outbreaks of plague and cholera. In some cases, Presbyterians endeared themselves to the people of Urmia through medical and educational service. Joseph Plumb Cochran, a child of American missionaries born in Urmia, who served at Urmia Hospital from 1877 until his death in 1905, had a funeral attended by tens of thousands.
With American missionary service in medicine and education as a model, the Assyrian populations of what's now northwestern Iran and northern Iraq began to be receptive to the Presbyterian Church. The 25 or so churches of northern Iraq and Iran, spread from Mosul, to Tabriz, to Tehran, were reported by the PC(USA) General Assembly in 1873 as the "Presbytery of Ooroomiah." Ministers in the presbytery are never listed by name, and their roles are not clear. In 1880, the presbytery names 9 American missionaries and 20 "native ministers"; in 1885, 11 missionaries, 33 native ministers, and "16 pastors." By 1895, there were reportedly more than 100 Presbyterian schools in the Urmia region, enrolling more than 2000 students. These included a school for girls, Fiske Seminary.
For Michael, as the child of an Assyrian Presbyterian minister, the possibility of going to seminary in the United States would have been attractive. And though immigration to the US from Iran was rare--before 1924 so few people left Iran for the US that they weren't tabulated by country of origin--as a Christian, and self-identifying on his paperwork as white, Mar Yosip would not have been subject to the color line of the American South, adhered to in the old Presbyterian Church in the United States (PCUS).
Mar Yosip's life after Louisville Seminary was fruitful. During his time there, the church in Temple, Texas, built an education building and started its first Bible classes. Mar Yosip served as chair of the Bell County Community War Chest during World War II, and was active in what would later become the United Way of Central Texas.
A sense of his politics can be seen in his pamphlet against fascism, "A Just and Durable Peace and a Small but Powerful Group Which May Wreck It," issued in the spring of 1943. In it, Mar Yosip calls his listeners to understand they were engaged in "a people's war"--a new thing under the sun, where capitalist and communist countries united to determine fundamentally how life would be lived.
"This war is revolutionary in its deepest sense. The mere fact that on our side are China and Russia, is a proof of that. The fact that Japan is on the side of Germany and Italy is a further proof of that fact. The forces against which we are fighting believe our world can be saved only by their Fascism, which means the control of the peoples by might and money. On our side there are lined up the forces which believe the peoples must have four freedoms. Communism is not our economic way of doing things, but Communism is closer to us in this matter than is Fascism."
He goes on to quote William Allen White, writing that the men in charge of the US's "amalgamated industrial wealth" are "stark mad, ruthless, unchecked by God or man, paranoiacs, in fact, as evil in their designs as Hitler. They are determined to come out of this war victors for their own stockholders." Against this cohort of "silurian reptiles," Mar Yosip holds that every Christian minister must "make every word he writes about this small group to blaze and burn."
Learn more
RG 379. Isaac B. Moorhatch, "Assyrian and National Church History," 1938.
Shedd family papers, in Pearl. The Shedd family were Presbyterian missionaries of West Persia beginning in 1892. In 1918 they led the Assyrians of Urmia in flight from the Ottoman army, toward refuge in Ba'qūbah in British-occupied Iraq. William Shedd died of cholera on the way.
Gal 3 M855. Staff evangelistic conference, Mosul, 1926. At left, seated is possibly Qasha Israil Rasho, the first ordained Assyrian Presbyterian.