Interview with Student Exhibit Panelist Briana Anthony
Eight student panelists from the Community College of Philadelphia are creating an exhibit as a part of Building Knowledge & Breaking Barriers: An Archives-Based Learning Project. Here two of the panelists discuss their hopes for the project and the PHS archives.
Interviewer Stephanie Santoro: How did you hear about and enter the program?
Briana Anthony: I was introduced through a CCP History in Architecture class taught by Professor Miles Grosbard.
Interviewer: As an exhibit panelist and researcher, what are some themes and topics you've come up with from your initial research at the Presbyterian Historical Society?
Briana: When I think of the slogan "Building Knowledge & Breaking Barriers," I think about the location of PHS and breaking down the barrier between the very different cultures in this area. Nearby we have schools, churches, a community center, and South Street. PHS could be a connector in the community.
I can imagine people shopping at one of South Street's thrift stores looking at the old photos and books and someone telling them about PHS nearby, checking out PHS afterwards, wanting to learn about the history behind such items. People like myself are interested in history and vintage items.
Interviewer: What kinds of activities or ideas do you have for drawing more people in and breaking barriers down?
Briana: I'd love to see local artists and artisans collaborate with PHS. It would be nice to see pictures or installations in the lobby and even in the courtyard. Artists could use the archives for inspiration and incorporate their findings in their art. I can also see more local schools having regular programs at PHS and students coming in to do research for assignments. It would also be nice for neighbors to come in to learn what this area looked like in the past or to discover family records like I have.
Community events can incorporate everyone in the area. The courtyard would be great for events like Easter egg hunts and film screenings about Philadelphia's history. Donation drives, food festivals, and farmers markets are all events that we can imagine happening in the courtyard of the historical society. The brick columns out front are a perfect place for posters made by artists and local restaurants can even participate by doing pop-ups and by providing food for these events.
I think the goal for this exhibit is to make people feel they have a place here; that they are a part of this space, as this space is a part of the community.
Interviewer: What are your thoughts about the other panelist's ideas and how they relate to your own?
Briana: I can envision everyone's concepts and how they tie together to become the bigger exhibit. With us all having our own personal and unique perspectives I feel this exhibit will reflect the concept of bringing different communities and cultures together. What makes our ideas cohesive and connected is that we are all focused on the human experience whether that be through spoken word, art, or how we tactically experience the space and its contents. Each of our ideas and skills is beneficial and useful to one another.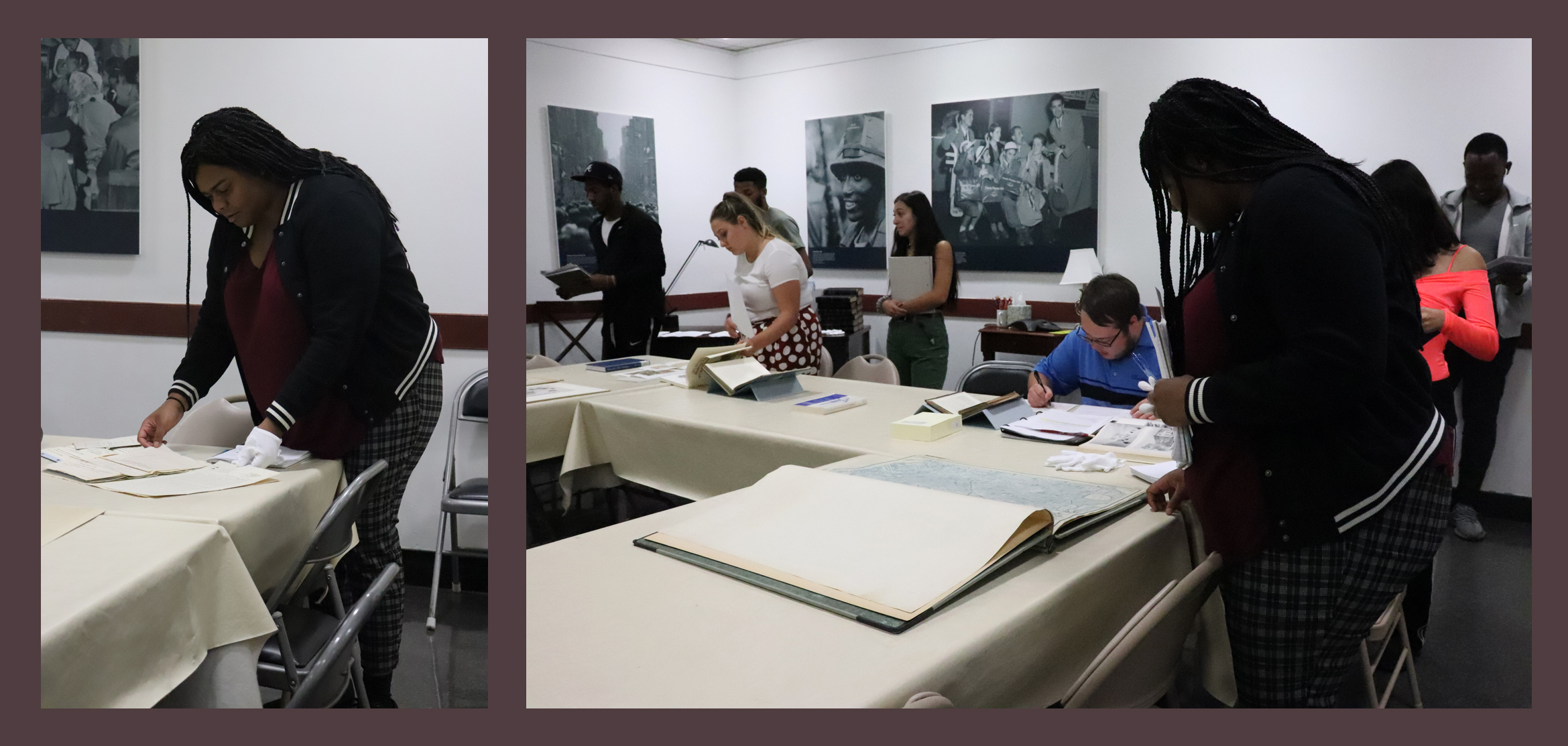 Interviewer: How do you think the story of your aunt's early involvement in the Presbyterian church in Philadelphia helps with this vision?
Briana: Being a fourth generation Philadelphian and curious about my family's historical ties to the Presbyterian church makes me wonder how other people could make connections like I did. If they only knew this was a resource for them...that kind of knowledge can spark so much connection and new history can be made. An example of how one can find things here is that everyone has a place and a story and it's an inclusive space to find your family history.
I think the goal for this exhibit is to make people feel they have a place here; that they are a part of this space, as this space is a part of the community.
Interviewer: That's a really cool thing to imagine. Tell us more about yourself. What are your long term goals with school and career?
Briana: I'm an aspiring artist. I love history and someday I hope to be a museum curator. I'd also like to study psychology.
Interviewer: This is so awesome. I'm making connections already between your ideas and my own. I'm looking forward to working with you. Thanks for telling us about yourself and your ideas.
--Briana Anthony is a student at the Community College of Philadelphia and a Building Knowledge & Breaking Barriers Student Exhibit Panelist. Her family's historical ties to the Presbyterian church fuel Briana's interest in growing PHS's connections and visibility to its surrounding neighborhoods and arts community.
Learn More
Stephanie Santoro recorded and transcribed this interview. Read Stephanie's account of the panel's summer 2019 field trip.
Learn more about the project by visiting the BKBB resource page.