Samuel Davies, Patrick Henry, and the Gospel of Liberty
In a presentation given as part of the Historic Polegreen Church Foundation Lecture Series, Dr. Jan Swearingen explored how Presbyterian theology and rhetoric informed the actions of Presbyterian leaders in Virginia and throughout Colonial America. We are pleased to share these excerpts from "Presbyterians in Virginia 1740-1770: Samuel Davies, Patrick Henry, and the Gospel of Liberty."
Samuel Davies
A strong emphasis upon education made Presbyterians distinctive among the denominations outside New England in colonial America. In addition, Presbyterians were among the first to establish a structure for cross-colony government, a structure based in their history as covenanters as much as in their need to preserve doctrinal and social consistency in thinking, teaching, and practice. Procedures and policies for educating clergy and for examining congregants prior to certifying them to receive communion provided an additional reason for closely coordinated policies and doctrinal practices. The New Light/Old Light split that divided the Presbyterian Church between 1742 and 1758 was eventually resolved by the desire to establish The College of New Jersey as a respected multi-denominational college, dispelling the stigma that had been attached to the "Log Colleges."
The schism could not have been healed without the partnership between Samuel Davies and Gilbert Tennent, his mentor and senior colleague. When Davies first arrived in Virginia he brought with him a legacy of rhetorical, legal, and homiletic practices that prepared him well for what he was going to encounter there: heated disputes about the roles played by itinerants going back to Tennent's defense of Roan, a growing number of Scots-Irish immigrants fervent in their loyalty to covenanter and Presbyterian beliefs and practices, and the promise of protection which Governor Gooch had extended in order to encourage their immigration. The Anglican establishment, both Church and State, was up in arms about the growing number of dissenters and itinerants in their midst, but it was also aware of the need for an influx of immigrants to the western backcountry as the likeliness of warfare with the French increased. The Scots were perfect choices, as they had been in Ulster, for fighting the "papists."... [T]hey were also primed to fight the English and the Anglicans for their political and religious rights. Davies' initial role as a missionary and itinerant among the Scots dissenters quickly became a political role as well....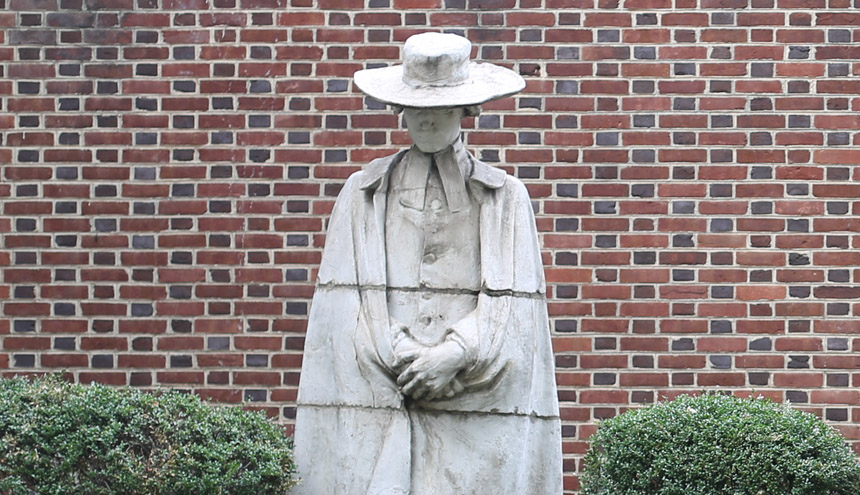 Patrick Henry
Influenced at first by his mother's and sisters' conversion by Davies, and then by an admiration of Davies' preaching, and eloquence as a teacher, Patrick Henry began a lifetime of sympathy and support for dissenting religious traditions, beliefs, and practices. Family legend has it that Sarah Henry drove Patrick and his sisters to hear Davies preach at the Polegreen church near Hanover almost every Sunday. On the way home she would ask Patrick to recite back the sermon he had heard. In the course of eleven years, Patrick acquired a rhetorical education in the oldest school of all: recitation and repetition of model speeches.
It was not just the form of the speeches that Henry absorbed from listening to Davies. He also acquired a political and religious vocabulary far wider than any he could have acquired from the formal schooling he received in Greek and Latin from his uncle and father. Davies' sermons were spoken in the vernacular and adapted for his listeners. He utilized a wide range of biblical, classical, and contemporary literary and historical quotations, not to display his learning, but to drive home the universality of the theological and moral truths he was teaching. His second wife, Jane Holt, was the daughter of a Williamsburg mayor and printer, and provided Davies with direct access to the Virginia Gazette, which he used as a platform for defending his own and other dissenting clergy's rights to preach. At the time of his death, in 1761, Davies' sermons were well known and influential as models for other clergy; by the time of the Revolution, they were among the most widely circulating collections of sermons in the colonies, particularly in the Middle Colonies, Virginia, and North Carolina.
Looking at Davies' pulpit oratory alongside Henry's speeches, we see a growing convergence of religious and political themes, as well as Henry's increasing ability to shift back and forth between political, moral, and religious terminologies. Like Davies, but even more so, Henry became known for a fluency of styles. Jefferson was not alone in accusing him of demagoguery, appealing to the baser passions of the common people. But Henry understood these appeals in a different way, as did the people to whom he spoke. With the best of the Scottish Enlightenment thought, transmitted through Davies' sermons, Henry had come to believe in the innate moral sense of all individuals, tutored or untutored. He may never have heard of Thomas Reid's philosophy of common sense, but he was an exponent of it, and his listeners had been taught to receive this kind of teaching by ministers like Davies who wanted to appeal to the heart and spirit, and not exclusively to the head. By the time of the Parson's Cause, Henry's first court case, the issue of "enthusiastic" preaching and speaking had become extremely controversial, with Anglicans denouncing the emotional rabble, and pietist dissenters denouncing Anglicans' formal doctrinal preaching as dull and lifeless. Henry's Parson's Cause speech, his Stamp Act speech, and his famous trumpet call for liberty or death exhibit the range of styles and vocabulary that Henry could employ: homely anecdote in the Parson's Cause, impassioned parliamentary invective in the Stamp Act, and eloquent political declamation in the St. John's church speech declaring "liberty or death."... READ FULL LECTURE