Mary Miles in Modern Japan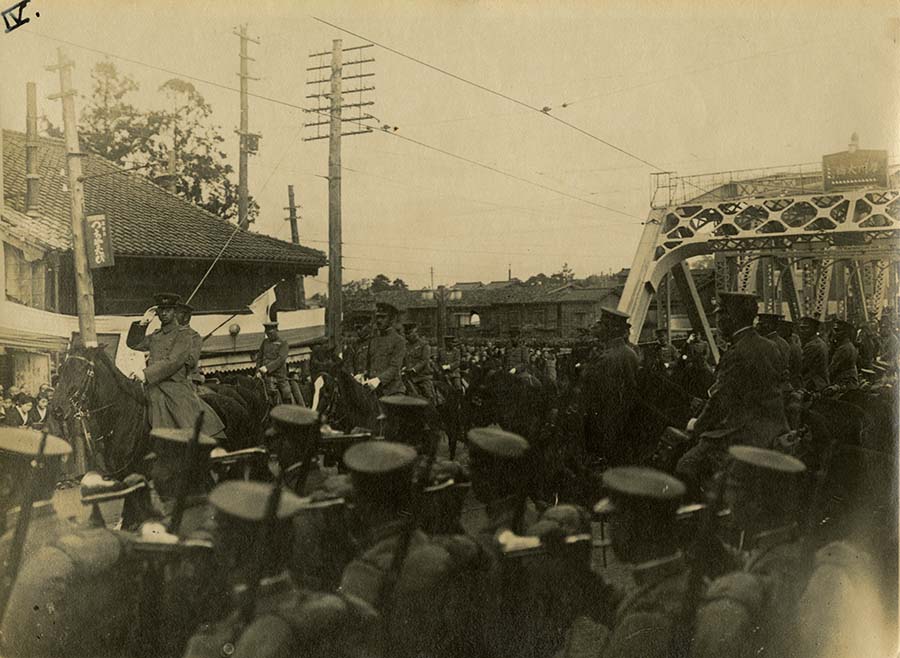 In the early 1920s, the Japanese town of Kanazawa had been transformed. A new state house, a steel bridge, and a barracks on the former grounds of Kanazawa Castle had all recently been constructed. Mary Miles, Presbyterian missionary and music teacher at the girls' school Hokuriko Jo Gakko, wrote of the barracks "No one is allowed to enter except the soldiers and, I suppose, tradesmen." She had seen Prince Hirohito, barely twenty years old, reviewing military maneuvers at the barracks, saluting Boy Scouts on parade either on horseback or from a custom-built booth with a dais.
Miles's official duties consisted of ten hours of public-school music and fifteen of instrumental music per week, but her unofficial labors as a friend and confidante to her students, and as a witness to Imperial Japan's military and industrial rise distinguish her story from others'. PHS has recently received a substantial collection of Mary Miles's personal papers.
Mary Miles was born May 8, 1896, the firstborn child of the Cumberland Presbyterian pastor Thomas Judson Miles and his wife Enola. She graduated from Maryville College in Tennessee in 1918, and was appointed to the Presbyterian Church in the U.S.A. Japan Mission in 1921. Miles joined the staff of Hokuriko Jo Gakko in 1923.
In her annual report of 1936, Miles describes personalities of individual girls, and regrets her failure to keep in touch with all her graduates: "Out of the more than seven hundred girls who have graduated in the fourteen years that I have been here, I have kept in touch with only a few." Miles in fact kept a large body of letters from former students and other young Kanazawans. The letters routinely begin, "Dear Sensei," and just as routinely begin with apologies for not writing more frequently, for not returning borrowed books, or for writing excessively of themselves.
One of Miles's students, K. Kuroda, writes to Miles from Evanston, Illinois, where she was studying English, hoping to enroll at the University of Chicago. In her letter of April 10, 1928, Kuroda expresses concern at the "chaos in China" saying, "I am very sorry that Japan was compelled to send troops for the purpose of protection of our people." Kuroda continues, saying that Japan's ultimate intentions are clouded by American fear: "She will be understood still worse by her sending troops. I am against Premier Tanaka's policy.[...] We must be friendly toward China as well as toward America. She is or will be our precious customer." Following the Immigration Act of 1924, Kuroda notes, rumors of an impending Japanese invasion of the United States through Mexico took flight. She concludes the political section of her letter by calling out the hypocrisy of Westerners' view of Japan as bellicose: "If Japan was as militaristic a country as they say, it was taught by them. Japan had a history of three hundred years peace before she had adopted Western civilization."
A glimpse of the industrial might which followed the Meiji Restoration can be seen in a message from Kiyoshi Itoh to Miles of July 2, 1938. Itoh writes with evident pride on stationery from his new job at Hitachi, which, in case Miles had not heard of it, "makes all kinds of ironworks--locomotive, turbine, induction motor, elevator, crane, hoist, steel, generator, fan, grinder, welder, and so forth. Do you want a smartest new-fashioned stream-line electric locomotive for your owner? Because you are my dearest teacher in the world, I order to make the big one if you want." Itoh dreams of spending the summer with Sensei playing by the beach, but Hitachi beckons: "But it is nothing but a hakanai dream, I have no summer holidays, not even a day."
It's unsurprising that Miles elicited devotion from the students of Kanazawa. In her 1936 report, Miles writes of travelling to the deathbeds of two graduates of Hokuriko Jo Gakko stricken with tuberculosis. Rapid industrialization--in particular the new density of workers in factories--had brought about a rapid increase in deaths from tuberculosis in the 1920s. By the time of the Great Depression, abject living conditions in the countryside exposed rural Japanese to a second wave of tuberculosis, carried by returning factory workers and newly stationed soldiers. The national drive to eradicate tuberculosis was bound up with the rise of fascism in Japan, and put the onus of prevention on the individual. One letter to Mary Miles of June 20, 1935, recommends caution in the rainy season: "Please be careful, in particular in such a season, for we are apt to fall ill."
Her former students cared as much for Miles, and thought as deeply about her well-being, as she did for them. One, taking the train from Takada Station in Niigata to Karuizawa tells of seeing an elderly missionary, weary from standing on the platform: "She got off at Takazaki station. After she left, I thought again and again. Even if her service or her life was for god, her life is very sad. Even if there presents god behind her and help her, she must walk solitarily, her life is solitary in the long run, she is a solitary traveller, isn't she? Even if she associates with god, God is a invisible being, she is solitary, this is true." Her student advises Miles to marry, and prays for her future happiness.
Miles came home on furlough in 1940. On December 7, 1941, the Japanese military attacked Pearl Harbor, and Miles's career as a missionary was over. She worked as a librarian at Maryville College from 1948 to 1952, then as director of financial aid from 1952 to her retirement in 1966. She would never marry.